Tanzanite Jewelry Growing in Popularity Worldwide

Loved for its blue, violet and purple hues, tanzanite is a precious gemstone that is growing in popularity all over the globe. Found only at the base of the tallest mountain in Africa, Mount Kilimanjaro, tanzanite is reddish-brown in its raw form. A heating process actually ignites the majestic color tanzanite is popular for. Why is the globe experiencing a boom in tanzanite popularity? Tanzanite is a visually pleasing single-source gem. It is wearable with many varieties of jewelry styles, and it features a limited quantity.

Over the recent years, tanzanite has found more popularity among gemstones. It has a rarity that is causing a large increase in demand while the colors are something that accent and offset other gemstones well. There are many different styles of tanzanite jewelry as well as many different ways to purchase it. There are many different settings and coordination options that should be considered when adding tanzanite jewelry to any collection. There are many different tips available to get the best deal on tanzanite.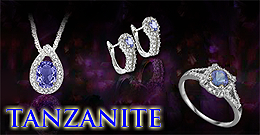 The Popularity and High Demand of Tanzanite

Single source tanzanite makes it special. Since Tanzanite is mined only from one single source on the planet, it is a special and unique precious gemstone appreciated by those who love its brief, but amazing history. Tanzanite is a fairly new gem in the gemology circles, but its short history is making powerful impacts on the world. Since it was first discovered, Tanzanite has sold for prices ranging between twenty dollars a carat to one thousand dollars a carat. What a growth!

The high demand for tanzanite is making it more popular. Tanzanite itself is in high demand due to limited mining availabilities. The gem is expected to be mined out within thirty years, creating a drive to obtain this gem before prices rise and the mining is no longer obtainable. The limited availability of this beautiful gem is part of what is pushing its popularity up. As more individuals within the population discover Tanzanite, the quantity desired is becoming more difficult to find.

The Popularity and Fashion Flexibility Options of Tanzanite

Flexibility makes tanzanite jewelry desirable. Radiant Tanzanite jewelry is growing in popularity due to its flexibility in fashion. Tanzanite jewelry can be worn casually or formally, depending upon the type of setting and jewelry it has been set in. It is perfect for rings as its color and clarity catches the eye, offering a beautiful accent to any outfit. Since the gem is pleochroic, it can appear blue from one angle and violet, green or purple from another angle.

Tanzanite itself is a tiny bit softer than quartz. It can be safely mounted in any jewelry setting, including rings. However, gentle care is recommended and cleaning with mild soap and water is the best method. Tanzanite jewelry includes necklaces, bracelets and earrings, and it can be worn in charm settings for charm necklaces and bracelets, creating an added sparkle.

Tanzanite color characteristics are unique and should be considered. Similar to diamonds and sapphires, Tanzanite can be purchased in lavender, blue, green, purple, violet, orange, and red; however, the blue shades have become the most famous. The bewitching color is perfect for all occasions, making a statement with any color combination.

Tanzanite and diamonds often go together. Tanzanite jewelry often includes diamonds or diamond accents due to the sparkle and coordinating clarity of the two gemstones. The jewelry industry fashions Tanzanite jewelry with diamonds in all shapes and sizes including teardrop earrings, rings and necklaces. Tanzanite alone or with diamonds is often included in jewelry trend style collections including:
• Bridal Jewelry
• Celebrity Jewelry
• Birthstone Jewelry
• Heirloom Jewelry
• Designer Jewelry
• Vintage Jewelry

Tanzanite Jewelry Options

With such a flexible gem, Tanzanite jewelry options are virtually endless. Before purchasing Tanzanite jewelry, it is best to narrow down the list of options in order to best decide which style is desired. Consider the following options to get you started:

Intricate Bold Center Rings: Popular for engagement ring styles, Tanzanite rings in this category include styles such as, Victorian, Edwardian and art-deco, featuring one Tanzanite center stone as the focal point.

Past, Present and Future: The past, present and future ring style includes a three stone Tanzanite style with one stone representing the past, one representing the present and one representing the future. Often associated with wedding, anniversary rings or heirloom rings, this style often has three Tanzanite stones or one focal point center Tanzanite stone and one diamond on each side, with the middle stone representing the present.

Solitaires: Tanzanite solitaire rings for engagement rings, promise rings, celebrity rings and heirloom rings make a bewitching statement. Fashioned in various popular shapes including round, pear, marquis, princess or oval cuts, the solitaire Tanzanite rings present the perfect opportunity to show off the stone's clarity.

Popular Purchasing Trends of Tanzanite Jewelry

Tanzanite jewelry is becoming more popular in jewelry stores, but it is often found at more pleasing prices at online auctions. There are various types of online auction possibilities including, live online auctions with no reserve, live online auctions with a reserve, and online auctions that include bidding but are not live bidding, but the bidding takes place over a course of several days. Auctions improve the popularity of Tanzanite jewelry, offering flexible price options and convenient online shopping experiences.

Tanzanite stones can also be purchased separately. Stones can be taken to a reputable jeweler who is knowledgeable about Tanzanite gems and then created into a one-of-a-kind jewelry showcase piece. Design your own ring, set of earrings or necklace. Tanzanite is often purchased with white gold or yellow gold, which best accents the stone's striking brilliance. While Tanzanite jewelry is growing in popularity, purchase now while it is still readily available and still affordable. This will be a fashion purchase that is an investment for not only the individual wearing it, but for those who will wear it in the future. Purchasing Tanzanite will reap many rewards and benefits.