A LOVE OF FINE JEWELRY DOES NOT HAVE TO BREAK YOUR PIGGY BANKF

Jewelry is an expression of our personality. The colors and styles we pick, how much and how little we wear, all can tell a lot about ourselves. For many women, being able to wear a beautiful diamond pendant on a special night out or to find that perfect chunky turquoise and silver bangle bracelet to match a particular outfit makes them feel beautiful. However, buying all these accessories can do damage to our pocketbooks, especially when we want good, quality pieces that will last the test of time. Although fine jewelry tends to be sold at full price at retail stores, there are still plenty of ways to find good discounts on beautiful pieces.

JEWELRY AUCTIONS OFFER GREAT DEALS

A popular option is to either attend a physical auction at various locations, or shop online auction sites. Either way you can get as much as 80-90% percent off. Increased sales at auctions are indicating that this is a preferred option for many. At a jewelry auction, you can put in a bid for an item you would like to purchase and if no one else bids any higher, then that item is yours. It is a very simple process until multiple people start vying for the item and then a bidding war might ensue. Make sure you stay focused on how much you are willing to spend. After the frenzy abates at the end of the auction, and you come to your senses, you don't want to experience sticker shock when you see what your winning bid amounted to.

Whether you attend a traditional auction or visit an auction online, buying fine jewelry there as opposed to a retail store has many advantages. Besides the great prices, auctions tend to offer more variety in their selection of jewelry items. People all over the world are selling and buying in these auctions, so there are always a variety of styles, stones and settings, and you might find a special antique piece that you probably couldn't find in the local store in the mall.

Auctions are great also if you have your own pieces that you want to sell by consignment. You can either schedule a face to face meeting with a jewelry expert at the auction company to evaluate your piece, or you can send in a photograph of it for an online evaluation.

One trending type of auction is the Dutch auction. In this auction, the bidding starts at the highest price instead of the lowest. The bid will then slowly decrease until someone is willing to pay that price. The key is to hold out for as long as you can to ensure that you get the lowest price possible.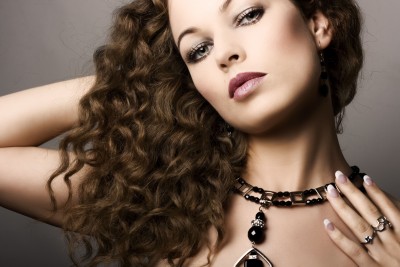 ONLINE SHOPPING AT DISCOUNT JEWERLY SITES CAN ALSO SAVE YOU CASH

If the idea of having to enter into a rapid fire of bidding where you might end up paying more in the heat of the moment than you planned, then there are also plenty of online sites where you can just directly purchase items. At some online sites, retailers from all around the world sell their jewelry at wholesale prices. Online jewelers save money with reduced staff and no sales commissions so they can offer better deals.

DIAMONDS ARE A GIRL'S BEST FRIEND

Not surprising, diamonds are the most popular items purchased online. Part of this is because it is easier to judge the quality of a diamond even from a picture. The 4 C's of clarity, color, carat weight and cut are relatively easy guides to follow. Tanzanite jewelry which can also be rated by the 4 C's is also a big seller. It is important to know what you are looking for. You want a colorless diamond, but a dark colored tanzanite. The darker tanzanite is harder to find which increases its value.

TIPS FOR THE BEST SHOPPING EXPERIENCE

Whether you choose to bid at an auction or to purchase directly from an online company, there are a few pearls of wisdom that you should keep in mind:

• Research, Research, Research. Know what standards are used to judge different pieces. Be familiar with all the different gem stones, metals and different types of settings. Be able to speak a jeweler's language. Visit many different jewelry stores and try on items that you are interested in so you can get an idea of color and fit, especially for rings and bracelets. Know what you want exactly. If you are visiting an online auction site, be aware of the differences between reserve and no-reserve auctions. No-reserve auctions are preferable because there is no limit on how low you bid for any particular item. Sometime auction companies will place both types next to each other on their site which can be confusing. Check out the company's reviews before purchasing anything. Are their customers satisfied when they finally receive their items? Is the color, size and fit what they were expecting?

• Look for companies that have buyer protection programs. When shopping online, you are making your decision based on a photograph. You want to be confident that you can trust the person or company selling you the item. Companies dedicated to customer satisfaction give you extra piece of mind when making online purchases.

• Have a budget and stick to it. It is very easy to get carried away with your purchases, especially at an auction, so always be cognizant of your bottom line. Make note of any hidden fees or taxes so you are not surprised by the final bill.

• Don't shop for jewelry when you are in a rush. Patience is a must when it comes to getting fine jewelry at discount prices. You need to take your time to search out the best deal without sacrificing quality and beauty. If you are rushing around to find a birthday or anniversary gift, then you might be pushed into buying something that you will regret later.

• Try to buy items that have documented appraisals by a third person party. And check the experience of the company's appraisers. Can you trust them to provide you with important information about details like quality, cut, and color? Trust is very important in these types of transactions.

It is possible to find fine jewelry at discount. You just need to do your homework ahead of time so you know where to go and what to look for. Confidence in your ability to make a smart purchase is key.