FINE JEWELRY AUCTIONS ARE THE BEST WAY TO SHOP FOR QUALITY JEWELRY AT DISCOUNTED PRICES
Shopping for fine jewelry for yourself or a loved one can be stressful when you are trying for high quality, but at a price that won't put you in debt. If you are not very knowledgeable about the in's and out's of choosing the best gems and settings, then purchasing diamond rings or pendants or a gem-encrusted broaches can seem more painful than that physics test in high school. However, with the right arsenal of information, fine jewelry auctions might be the best way to purchase quality, beautiful items without the sting of a heavy price tag. Often times when we think of fine jewelry auctions at Sotheby's or Christie's, we think of Mr. or Mrs. Moneybags who can afford to spend extra money on a luxury item they really desire, but the popularity of online jewelry auctions is proof that it is not just for the rich any more.


BENEFITS OF BUYING BY AUCTION

There are many benefit to buying at auction instead of just directly purchasing an item at your local jewelry story or an online company. Of course, the discounted price that you can get by bidding on an item, instead of straight out purchasing it is one of the major draws of buying fine jewelry by auction. You get to control what you bid, and most auctions are geared to trying to get you the lowest possible price for the item.

Another benefit is the frequency of jewelry auctions. There are online auctions that run 24 hours a day, seven days a week. Even if you prefer face to face bidding, many jewelry stores and auction houses hold auctions several times throughout the year.

If you are a newbie and are picking out your first really good piece of jewelry, then having knowledgeable experts guide you through the purchase is important. Most auction houses or online sites have experienced appraisers providing you with the description of the items up for bid. You will get all the important information about details like quality, cut, and color.

Another important benefit is variety. When you go to your shop around the corner, you are limited to what they have in stock. Auctions attract buyers and sellers from around the world so you can find anything from antique pendants to more contemporary pieces.

At many auctions you can also sell your own pieces by consignment. You have the option to meet with one of their experts to find out the current market value of the item so you know what it should go for, or you can send in a photograph of the piece and they will give you an online evaluation. Many fine jewelry auctions are earning more than two million dollars in sales, which shows the increasing popularity of shopping this way.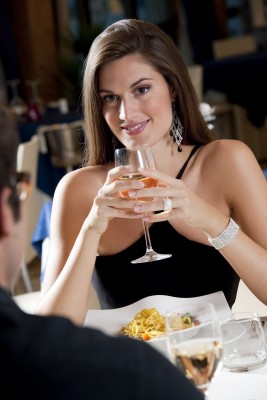 WHAT ARE THE BEST FINE JEWELRY ITEMS TO PURCHASE BY AUCTION?

Diamond pendants, necklaces and broaches are consistently the most popular items bid on at auctions. This might be because of the easy way to determine the quality of a diamond by checking the 4C'S: color, cut, clarity and carat weight. Gems like rubies, sapphire and emeralds are also popular and come in many different types of settings like yellow gold, white gold, platinum and the increasingly popular titanium. Remember that you want your diamond to be colorless.

Tanzanite jewelry is also popular at auctions because it can be rated by the 4C's as well. For tanzanite, darker colors are rarer and therefore more valuable.

PICK THE RIGHT TYPE OF FINE JEWELRY AUCTION FOR YOUR NEEDS
Overstock auctions is when the auction company buys the overstock items at various jewelry stores and then sells them to you for deep discounts. You are getting the same pieces you would have gotten at well-known retail stores, but at a fraction of the cost. Most of these pieces will come with documentation which will give you that added confidence about the quality of the piece.

Jewelry is often also sold at auctions which are off-loading property that was seized during legal situations like loss of property or declaration of bankruptcy. Here the variety might not be as good as at overstock auctions, but the deals will be great because the mentality of the auctioneers is typically that all items must go.

Another type of auction is private sales on online auction sites or estate sales. The one downside to these types of auctions is that the individual selling the jewelry wants to make a decent profit so they might not sell it at as low a price as you would desire. The other factor is your level of confidence in the trustworthiness of the seller. You want to make sure you can trust him or her on the quality of the piece and the description of color and size. Try to buy items that have documented proof of an official appraisal by a third party.

WORDS OF ADVICE FOR FIRST-TIMERS
Before deciding to bid at an auction, do your research. Know the difference between reserve and no-reserve auctions. Reserve auctions are when a minimum sale price is set for the items. The no-reserve auctions are your best bet for the deepest discounts because you can start the bid off as low as a dollar. Be careful when selecting an online auction, because many sites mix reserve and no-reserve auctions on the same page.

Also know the language of jewelry so you know what different descriptions mean and you know the proper way to judge an item's quality like the 4 C's. Shop around at your local jewelry stores first to handle similar pieces, try them on to see the fit and to get a better idea of what looks good on you.

Be careful when shopping for rings and earrings. Ring sizes can be tricky and the color of the gems on earrings might not match exactly.

Set yourself a budget and don't let the frenzy of the bidding process cause you to go over that budget. Also remember to include shipping costs when deciding your budget. Some places offer free shipping, but most places don't. Also be aware of any other hidden taxes or fees that might apply.

Finally, remember that auctions are not the best place to shop when you have a deadline like an anniversary or a birthday or any other special occasion. You need to take your time. If you don't have the time to be patient to search for the right piece and the right price, you might end up buying something you are dissatisfied with later on. Jewelry auctions are a great place to get discounts, but you need to come prepared.