Things to remember before buying gold jewelry
All of us can buy jewelry for almost any part on our body, our neck, ears, arms, fingers, head, and ankles. However, these fabulous and much sought after products often come in a vast range of price, from very cheap to expensive. So money is another factor whether we can acquire this. If we really want to buy gold jewelry we tend to find cheap gold jewelry to compromise. We search for something that may fall in our price range, thus people with limited budget wants cheap gold jewelry.
It doesn't matter if you are buying gold jewelry for someone or for yourself; you always decide what to buy and where to buy it. Gold jewelry is a big investment and even handed down to your family members. That means you'll want to make a smart choice, even when buying cheap gold jewelry. You should know certain things.
Get cheap gold jewelry from someone you can trust. When searching for gold jewelry, even at a lower cost than usual, look for an auction site or a local company that specialize in it. Don't try to find cheap gold jewelry from store that offers wide variety of products. Quality will usually not the best but it can be as close as the expensive one.
You should be investigative, when searching for cheap gold jewelry, check the company thoroughly whether they are trustworthy or not. Look for previous feedbacks, affiliations, track records, reputation, and current customers.
Look for a warranty. Even cheap gold jewelry should be with some warranty or guarantee. Check for the sellers disclaimers, return policy, etc. Should the gold jewelry you get is not the one you were expecting, the specifications are different or have factory defect. Some seller gives manufacturer's warranty and return policy.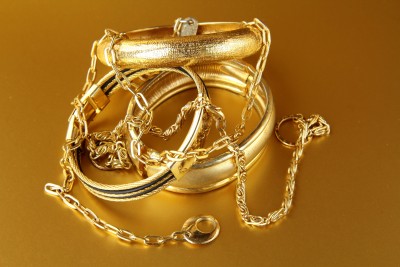 Search for a good price and quality. Although it is tempting to buy a cheap gold jewelry because of the low price. You should be specific on what you are getting, for instance, look for the karat and quality mark to know if it's real or not, what percentage of the jewelry is gold, 24k indicates that the jewelry is pure gold. 18k gold is only seventy-five percent, while 14k is fifty-eight percent. 10k gold is actually less than half pure, and the rest is an alloy.
Don't be too hasty. Be sure to check a number of different place or store that offers the type of product you want before buying. Ask about the karat weight, total weight and other relevant details. Decide what you want from that jewelry.
Avoid suspicious retailers. If you are unsure whether the store is trustworthy or not and if you feel uneasy or dubious about your purchase, don't make it. The cheap gold jewelry you are trying to buy might be fake, or even stolen. So try another store if you are that uneasy to buy it.
Remember to determine the size, whether you are buying for yourself or others. Also, check the clasp or other fasteners, whether they are in good condition or they function properly. So you know how fast the gold jewelry you buy will be worn out.