Home > news

> Jewelry Auction are Excellent Deals
---
Jewelry Auction are Excellent Deals
Jewelry Auction are Excellent Deals

Jewelry auction usually start at $1 with no reserve at various sites across the internet. They include Diamond Jewelry, Gemstone Jewelry, in precious metals such as gold and silver. Most people use jewelry auction site to liquidate excess inventory which is a benefit to both the end user as well as resellers.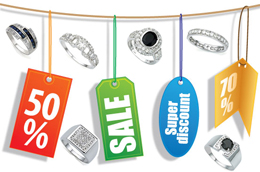 The Jewelry industry in the US is a $60 billion dollar industry. Excess inventory and closeouts from Department stores always exists. Some of this inventory are sold to jewelry auction sites where people can find best deals. Many of the items are sold at below wholesale prices. Due to this reason, many resellers choose to buy at jewelry auction sites because they generally can get a better price than jewelry wholesalers.





If you compare jewelry auction sites and retailers, you usually find deals that are at least 80% off. Yes, that is the actual number. You can compare yourself at various jewelry auction sites across the internet. I am sure you will always find the best jewelry prices at jewelry auction sites.In Summary, jewelry auction is a fun, exciting concept. At the same time, it brings the best value of all channels of distribution of jewelry. You will not find a better , friendlier place to find deals on Jewelry.
Copyright c 2010 Bankruptcy & Liquidation Online Jewelry Auction - JEWELRYROOM.COM. All Rights Reserved.