Home > news

> Buying Gold Jewelry for Less
---
Buying Gold Jewelry for Less

Buying Gold Jewelry for Less is Possible
Buying gold jewelry for less is always the intended goal for individuals who love the look of either white or yellow gold to wear and for those who enjoy purchasing gold jewelry for resell. There are many ways to buy gold jewelry for less. Gold jewelry can be purchased at a discount at department or jewelry stores when the gold goes on sale or has been marked down for clearance. One of the best ways to enjoy buying gold jewelry for less is to purchase gold jewelry at live online auctions. Do your homework and decide which option is best for you.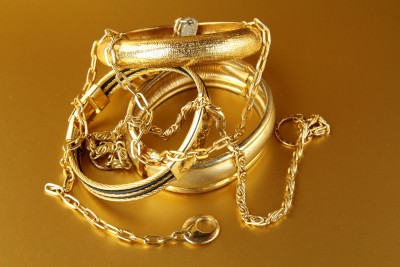 Live Auctions Online

Live auctions online are auctions that post opportunities for buying gold jewelry for less beginning with a base bidding price point. For example, a gold wedding band may have a beginning bidding price of $10.00. Live auctions online provide information about the gold jewelry item on the same page that the item is advertised. Bidders can then bid for the gold jewelry and can often bid several more times as the price rises. Many live auctions online provide a way for bidders to set a maximum bidding price one time, so that they do not have to constantly watch the bidding process. The system will do the bidding for them.

For example, if you want to pay a maximum of $50.00 for that gold wedding band, you can set your bidding maximum at that price point and go ahead and bid possibly $12.00. As the bidding rises, the computer can automatically place your bid as the highest bid until the bidding reaches your maximum amount. If bidding passes that amount, you will be notified, and you will have the chance to bid again. Ask questions and discover if the live auction online bidding site you are considering has this maximum bidding feature.

Live auctions online are offered through two different methods; no reserve auction bidding and reserve auction bidding. If you are unfamiliar with these terms, consider the following tips and information:

• Reserve Auction Bidding: Reserve auction bidding is a live auction online where the seller has a specific price point they want to reach while selling an item. For example, the bidding may begin at $20.00, but the reserve is set at $100.00. The reserve price is sometimes advertised and sometimes not. If you bid through a reserve live auction online service that advertises that it has a reserve, the item will often not be sold if the reserve price point has not been met.

• No Reserve Auction Bidding: No reserve live auctions online are positive, economic and convenient ways to purchase gold jewelry through the bidding process. If an auction advertises that it has no reserve, the price is set by the highest bidder for that item, but the seller still sets the beginning bidding price. Bidding prices are often set very low in order to generate interest and excitement with the online bidders. This allows for the perfect opportunity for those buying gold jewelry for less. No reserve live auctions online often offer wholesale or discount prices for items plus shipping and handling charges.

Why Use Live Auctions Online?

If you want to get involved in buying gold jewelry for less, either for your personal use or for resell, live auctions online could be the answer for you. Gold jewelry is often offered at clearance or wholesale prices, and can sometimes be purchased in bulk to save even more money.

If you are interested in buying gold jewelry for less through online live auctions, read through the fine print and ask questions. Read the policies and rules through the live auction of your choice and enjoy purchasing gold jewelry items at discount prices through a convenient, secure and time-saving method.

Consider where the gold jewelry is being shipped from before bidding from an online auction. If the gold jewelry is a low price but it is being shipped overseas, the shipping charge may swallow much of your profit margin. Find out what the shipping and handling charges are before bidding in order to bid with more confidence. Gold jewelry usually sells fast, so if you have discovered an auction with a pleasingly low price point, keep your eye on it as you bid in order to buy gold jewelry for less than department store or jewelry store prices.

Gold Jewelry as an Investment

Gold jewelry is an investment, no matter if you are purchasing it for personal use or for resell. Buying gold jewelry for less is an important component of making money or investing in gold jewelry. The lower your purchase price and the higher you are able to sell the gold jewelry for, the more profit that you make if you are purchasing for resell. Gold jewelry never goes out of style, and the price of gold is always something to consider.

White gold jewelry and yellow gold jewelry are both popular and wise investments. When considering buying gold jewelry for less, consider purchasing not only classic yellow gold but white gold. Consider the styles also when buying gold jewelry for less. Styles including vintage, modern and classic are always in style and endure with the times. These styles are popular for almost every jewelry taste and can be coordinated well with clothing styles of today.

Consider what the gold jewelry is going to be used for before buying it. Heirloom jewelry, for example, may be more difficult to resell than bridal jewelry, depending on your method of resell. Consider the stone also, if the gold jewelry has a gem stone that is inset. Some gemstones are more popular than others. For example, tanzanite, amethysts and diamonds are often more popular than topaz, opals or pearls on today's market.

No matter the style or the gem stone, however, buying gold jewelry for less is always a wise decision. It is a positive investment and an exciting addition to any personal jewelry collection.
Copyright c 2010 Bankruptcy & Liquidation Online Jewelry Auction - JEWELRYROOM.COM. All Rights Reserved.